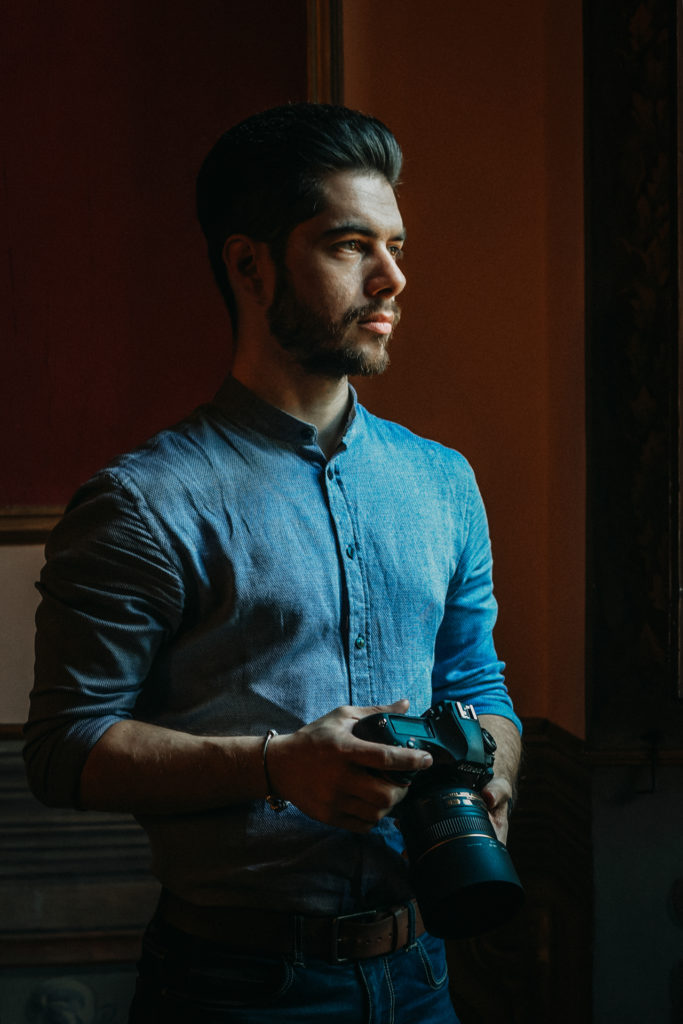 "I think this is the best job in the world because it gives me the privilege to capture one of the most important days of your life with images! Images that will remain as memories over time, forever. "
Born in Latina in 1986, he is a photographer specialized in portraiture and wedding reportage.
After completing his studies, he began to collaborate with a development and photographic print lab in Latina. Over the years in the lab, he became passionate about photography thanks to the old Canon EF Black Beauty received as a gift from his father Ennio. Immersed between the old Ilford and Kodak films, he personally experiences the transition from analogue to digital, making this world his passion.

nspired by great world-renowned photographers such as Annie Leibovitz, Lee Jeffries, Steve McCurry and their storytelling through non-verbal communication. Upon that, training courses about portraiture. He has always had an attraction towards people, the load of beauty and emotions that can be captured in a photo.
The intuition and ability to grasp the state of mind of the protagonist of his shots and the interest in the identities and ordinary passions of anonymous men and women drives him to search for beauty, joy and spontaneity of ideas. Additionally, the power of the images and their effectiveness in transferring memories and emotions make his passion a profession. If it is true that a single photo is a story, a story is more, which means that a set of photos used to narrate an event, perhaps the most important of all, life. Therefore, he decides to dedicate his art to couples, specializing in wedding reportage at the Italian photography institute where he attends a master's degree in Wedding Storytelling.
After several experience and research over the years brings to publications of images in important portrait photography magazines. Important collaborations begin in the wedding sector, thanks to which increases and strengthens his narrative skills, building its own and unmistakable style. He is currently an active member of some of the world's most important photographic associations such as the Wedding Photojournalist Association, MyWed and the Masters of Italian Wedding Photographers.
AWARD:
2016 – Finalist Contest Black and White Viewbug
2017 – Publication on Art Of Portrait 9 Issue
2017 – Lifestyle Photographers Award Winner
2018 – Publication on Art Of Portrait 22 Issue
2018 – Lifestyle Photographers Award Winner
2018 – W|PJ "Diamond Award" Contest V1
2018 – W|PJ "Diamond Award" Contest V9
2019 – Publication on Ellèments Magazine Issue
2019 – W|PJ "Master Piece" Contest V3
2019 – W|PJ "Master Piece" Contest V4
2019 – W|PJ "Master Piece" Contest V6
2019 – W|PJ "Master Piece" Contest V7
2019 – MyWed Wedding Story "Editor Choise and Best of the Week"
2019 – MyWed Wedding Story "Best of the Year"
2019 – W|PJ "Top 10 Wpja Wedding Photographers in Lazio, Italy"
2020 – Lifestyle Photographers "Top 100 Lifestyle Photographers Titles"
2020 – MyWed Wedding Story "Best of the Week"
2020 – W|PJ "2 Awards from the Artistic Guild of Wedding Photojournalists"